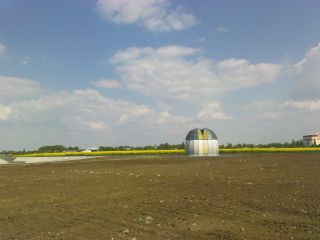 This Thursday May 8, was a local holiday, the liberation day for the end of World War II. Liberation day used to be the 9th of May, but perspectives change. It also led me out into the Prague suburbs as the latest, and last for a while, extension of the Prague Metro was opening. In the 18 years since I first visited Prague, the metro system has doubled in length, with 19 new stations (Oslo in the same period added 3 new stations). It is a fairly young system, it opened in 1974, and is efficient, convenient and pleasant to use.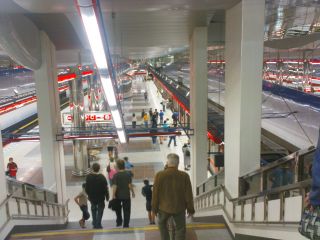 While I am an early adopter in the sense that I quickly visited the new stations, I actually never have bothered to be there at the opening (not the official opening, but when it opened its service for the public a couple hours later). With the next station opening in 2013 at earliest I took the trip to the suburbs where the three new stations, Střížkov-Prosek-Letňany, were located, or at least two of them. The terminus, Letňany, is placed in the middle of an empty field. There's an small planes airport nearby and it is just between two large suburbs (Letňany and Kbely). Supposedly the location could come handy if Prague won its 2016 Olympic bid, which is not going to happen. The station is integrated with a nice new bus terminal, as well as a new Park and Ride, so the communications in this part of town still have improved.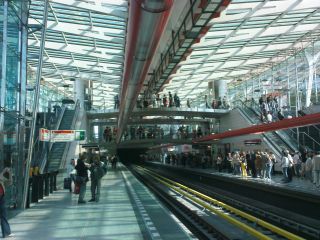 What's more the station itself is pretty in blue-tinted glass and highly reflective chrome (at least for now). The most noticeable station of the three is still Střížkov. This dome looks like how the future could be imagined in the 1930s, or progressive architecture concepts from the 1970s. Open, light, and practical. Absent at the opening was commerce, no shops and no pubs or bistros. I can only assume that they will come later, one picture series indicates we can at least expect a hair dresser soon.
More pictures can be found in my album. Skyscrapercity has a relevant thread, and then there is the metro site if you can read Czech or just like to look at the pictures.